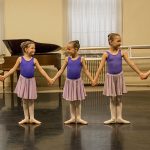 Youth Ballet 1 age: 4-7
Explore the beauty and harmony that dance has to offer!
(R2) PRIMARY BALLET 1
Rate: $60/month
Minimum Age: 4
Prerequisites: No previous dance training required. Ability will be assessed by A. Bayne.
Description:      
Dancers aged 4+ will learn the basics of ballet technique, music and movement. This is a suggested pre-requisite to Primary Ballet 2.
Class time(s) and Location(s): 
🕓Thursday from 4:00 to 5:00 pm – Main Floor studio
OR
🕙Saturday from 10:00 to 11:00 am – Main Floor Studio