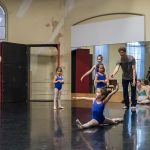 Other Dance age: 6-8
Tuck and roll!
(D3) DANCE GYMNASTICS
Rate: $60/month
Minimum Age: 6
Prerequisites:
No previous dance experience required.  
Description:      
Dancers aged 6+ will improve balance, flexibility, strength and co-ordination to complement their dance training. They will learn fun moves including pivots, front rolls, log rolls and cartwheels.
Class time(s) and Location(s): 
🕐Saturday from 1:00 to 2:00 pm – Upstairs Studio