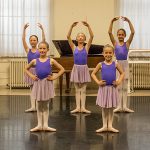 Youth Ballet 1 age: 5-7
Enjoy the first ballet steps!
(R3) PRIMARY BALLET 2
Rate: $60/month
Minimum Age: 5
Prerequisites: One year of dance experience. Ability will be assessed by A. Bayne.
Description:      
This class is for dancers aged 5+ that have already completed a minimum of one year in Primary Ballet. Students will further their studies on the basics of ballet technique, music and movement.
Class time(s) and Location(s): 
🕔Thursday from 5:00 to 6:00 pm – Main Floor Studio