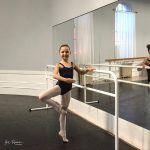 Summer Programs age: 6-8
Fun and focus!
(S4) INTENSIVE LEVEL JUNIOR 
Rate: $800
Dates: July 20-July 31, 2020 (2 weeks) 10:00 a.m. – 5:00 p.m.
Minimum Age: 6
Requisites: 1 year of ballet experience recommended.
Learn from Ballet Victoria's top professional dancers! The Ballet Victoria Conservatory offers a unique two-week summer intensive for Junior level students aged 6-8. This program is designed for dedicated students who want a fun and focused summer program.