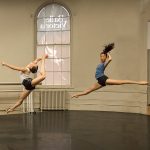 Intensive 3 age: 12-14
Get creative and explore new ways of moving!
(I9) INTENSIVE 3: CONTEMPORARY
Rate: $60/month
Minimum Age: 12
Prerequisites:
Must take all three Intensive 3 ballet classes and two pointe/pre-pointe classes.  Three years of previous dance training recommended. Ability will be assessed by A. Bayne.
Description:      
Dancers aged 12+ will learn how contemporary dance incorporates the controlled legwork of ballet with the grounded and experimental qualities of modern dance.
Class time(s) and Location(s): 
🕕Friday from 6:00 pm to 7:00 pm- Upstairs Studio