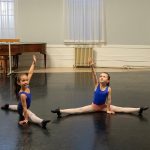 Intensive 1 age: 6-8
Come and enjoy the energy of Jazz!
(I6) INTENSIVE 1: JAZZ
Rate: $60/month
Minimum Age: 6
Prerequisites:
Must take both Intensive 1 Ballet classes. Ability will be assessed by A. Bayne.
Description:      
Dancers aged 6+ will develop strength, flexibility and co-ordination to complement their dance training.
Class time(s) and Location(s): 
🕔Monday from 5:00 to 6:00 pm – Main Floor Studio
Dress Code:
Black jazz shoes, form-fitting clothing (i.e. tank top or leotard with shorts, leggings, or footless tights).