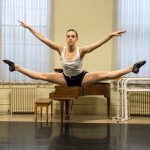 Intensive 3 age: 12-14
Experience the intensity of Jazz!
(I12) INTENSIVE 3: JAZZ
Rate: $60/month
Minimum Age: 12
Prerequisites:
Must take all three Intensive 3 ballet classes and 2 pre-pointe classes.
Description:      
This is an extension of all of the skills learned in Intensive levels 1 & 2 Jazz. In this class students will refine their Jazz technique, musicality and artistry that will compliment their ballet training. Students will be challenged both physically and artistically learning intricate choreography to a wide variety of both classical jazz and popular, contemporary music.
Class time(s) and Location(s): 
🕡Thursday from 6:30 to 7:30 pm – Upstairs Studio