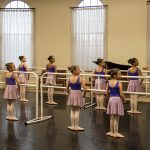 Intensive 1 age: 6-8
Discover the fundamental building blocks of dance in a pre-professional setting!
(I1)  INTENSIVE 1: Ballet
Rate: $120/month (2 classes/week)
Minimum Age: 6
Prerequisites:
One year of previous dance experience recommended. Ability will be assessed by A. Bayne.
Description:      
Dancers aged 6+ will learn proper use of the ballet barre while developing an awareness of body alignment, weight placement and musicality.  One year of dance experience recommended.
Class time(s) and Location(s): 
🕓Monday from 4:00 to 5:00 pm – Upstairs Studio
🕔Tuesday from 5:00 to 6:00 pm – Main Floor Studio
Mandatory Courses: 
Ballet classes
Intensive 1 Jazz
Summer Intensive: Junior Dance Camp
More Class Options:  
(D1) Beginner Tap
(D3) Dance Gymnastics